There was once a poor 20-something person wanting to decorate for Christmas. So she went to her local discount store to buy an unlit artificial Christmas tree and some decorations. At the time, she did not matter about how bare her fake tree branches looked or how few lights twinkled.
Fast forward to 20 years later, that faux tree made it through a couple of moves and Christmases. Yes, the box has worn out, and the tree looks tattered. She sees three squished-up pieces of faux tree and a plastic tree stand lying on the floor.
Then she admires it again after propping the three sections together, noticing only the bottom lights working. How fantastic, and after fluffing for 20 minutes, it starts to look a wee bit better. But oh my word, you can still see through it. You see these enormous gaps of spindly branches.
So, as the tree stands there, it is still worth less than that pre-lit Christmas tree costing $100, but she is not willing to part with that money now, and this old unlit artificial Christmas tree will have to do. So, what is there for her to do?
Off to The Local Discount Store
She is on a mission to find quick solutions to make that faux tree look fabulous again for under $10. So she stops and looks at some Christmas garlands. She is tempted to buy them. But the thought of winding that garland in and out of those tacky branches sounded like looking for trouble. Wow, she thought I would even knock those needles onto the floor. Hence, she throws in two 24-inch wreaths costing $4 a piece and not too much to lose.
Updating Your Fake Christmas Tree Steps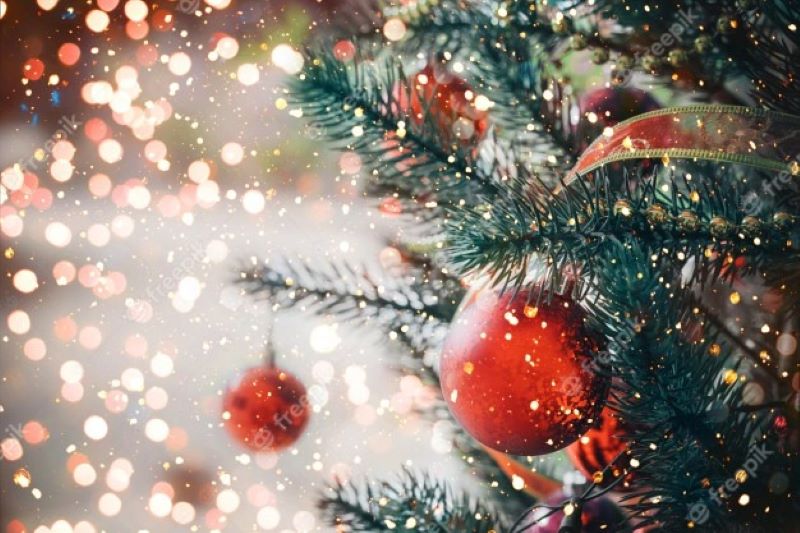 Great, now you may be wondering how you will update an unlit artificial Christmas tree with two added wreaths. Here are some detailed steps:
Step One – First, Remove Your Christmas Tree From That Old Tattered Box and Fluff up the Branches as Much as You Can. Take your time doing this to twist and turn those branches in all directions, as you will need all that fluffed-up greenery.
Step Two – Start Assembling the Plastic Stand With the Bottom Section of the Tree. Step Three – Now Add the First Christmas Wreath on the Top of the Bottom Layered Branches. Fluss that wreath in all directions to get the branches twisted towards the outside and inside. Once ready, place it on top of the bottom branches. Then snap the middle part of your tree into place.
Step Three – After Adding the Middle Tree Section, Add Another Wreath. Excellent now, fluff up that second wreath focusing on the branches, forming them to the inside, making the circumference small to fit in with the shape of your tree.
Step Four – Now Add That Last Tier of Your Unlit Artificial Christmas Tree. Adjust those branches to make your tree look fabulous again. You will see the two wreaths fill up those gaps, costing you only $10.
Step Five – Brighten Your Tree With Lights, and You Can Find Some In-Expensive Ones That Will Work Great.
As you can see, only adding wreaths with some new lights and the old ornaments you have can save you some bucks to make that unlit artificial Christmas tree work for you for one more year. But, of course, you can always make a DIY Christmas Tree Topper add more flair to your tree.